IIBEC Southern Ontario hosted the online course, Architectural Sheet Metal Flashing, from 8:30 a.m. to 5:00 p.m. on April 13, 2022. The online live course was attended by 12 people and was presented by Jon Peat, RRC, RRO, Russ Raymond, RBEC, RRC, REWC, RWC, RRO and Remo Capolino, RRC, and moderated by Meagan Kikuta and Blair Gamracy.
The Architectural Sheet Metal Flashing course focused on design, assessment, and detailing. Topics covered included material selection, attachment, joinery, expansion joint detailing, fabrication tolerances, drainage assemblies, and penetration flashings. Within sheet metal joinery, the subjects of proper soldering techniques, proper solder repair procedures, as well as application of specific metal joinery types were developed fully. The course covered the fundamentals and more advanced topics suitable for architects, engineers, and building enclosure consulting professionals.
Special thank you to the education committee and our presenters for putting this event together.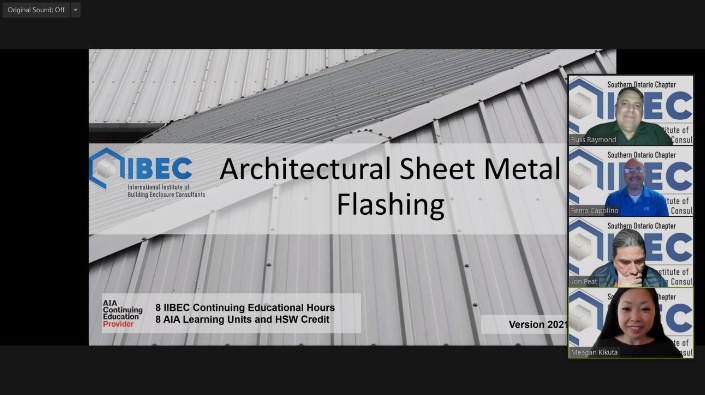 Upcoming Events:
CSC Social Night – April 26th, 2022
Golf Tournament June 28, 2022
Stucco and Exterior Finish Cladding Systems Course (Oct 20 & 21)