The Southern Ontario Chapter of IIBEC hosted our final technical course on Stucco and Exterior Finish Cladding Systems. The course was held virtually over 3 half days – October 20th, 21st, and 27th and was presented by Chris Hunter (Georgia-Pacific Canada), Kevin Day (Sense Engineering), and Burt Carver (Apex Building Sciences Inc.).
The Stucco and Exterior Finish Cladding Systems Course is the third specific exterior wall course that builds on the fundamentals presented in Exterior Walls and Science. The purpose of the course is to provide essential information on material properties, design principles, evaluation techniques, and repair methods for stucco and EIFS.
A special thanks to our Education Committee and Presenters for putting this event together.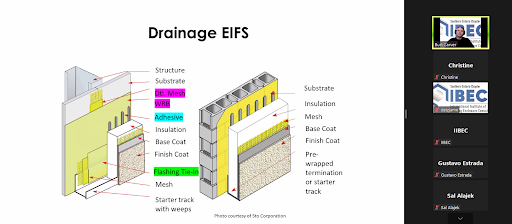 Upcoming Events:
The Christmas Luncheon marks our final event of the year and will be held on December 8th, 2022 at the Bellagio Boutique Event Venue in Vaughan. Registration is live and we are currently looking for industry sponsors. Please follow the link below to register!
http://events.r20.constantcontact.com/register/event?oeidk=a07ejfhgdv99bfd27e2&llr=ipefsquab