The 2023 IIBEC International Convention and Trade Show was held in Houston, Texas, from March 3 to March 6, 2023, at the Marriot Marquis Houston and George R. Brown Convention Center. The event brought together professionals from the building enclosure industry to network, learn, and share knowledge about the latest developments in the field.
The convention kicked off on Friday with two auxiliary seminars, "Use of UAS and Reality Capture Technology in Transforming the Future of Enclosure Assessment" and "Fall Protection for Roof Consultants—Hazards, Solutions, and the Law". In addition, the RCI-IIBEC Foundation and RCI Foundation Canada Golf Outing took place at the Wildcat Golf Club. Friday also included IIBEC committee meetings throughout the afternoon, and the day concluded with the well-attended IIBEC Opening Reception.
Saturday began with a full slate of educational sessions, starting with "Resilience: What Does that Mean for the Design of Buildings?" by Donald R. Scott, PE, SE, FSEI, FASCE, of PCS Structural Solutions. This session focused on the importance of building codes and standards, community expectations, and climate impacts on building resiliency. This was followed by "Stucco on an Island not So Far, Far Away: Directly Bonded Stucco Failure Investigation" by Stewart Swing, RRO, RWC, RRC, EI, and Vu Nguyen of Terracon, which examined the use of Portland cement stucco and ASTM C926 in building applications.
The RCI Foundation Board meeting also took place on Saturday morning, during which IIBEC chapters presented checks to the foundation. In the afternoon, there were region meetings, and the day was anchored by the Opening Ceremony and Keynote by Seth Mattison, who spoke about the future of work and leadership. The ceremony also featured a video showcasing IIBEC's 40-year history, highlighting the partnerships that have made the institute a success.
On Sunday, the trade show opened with product demonstrations and receptions hosted by Siplast and Soprema. The event concluded on Monday, with a variety of educational sessions, including "Lighting and Building Enclosure Integration" by Brian Liebeck, PE, LC, LEED AP, of Affiliated Engineers Inc., and "Inspection Techniques for Roofing Systems" by J. David Magarity, F-IIBEC, RRC, PE, of the Roof Consulting Services.
The 2023 IIBEC International Convention and Trade Show provided a unique opportunity for building enclosure professionals to come together and share their knowledge and experience. With a focus on education, networking, and professional development, attendees left the event with new insights and strategies to apply to their work in the field.
The Southern Ontario Chapter also received their Platinum Award for 2022!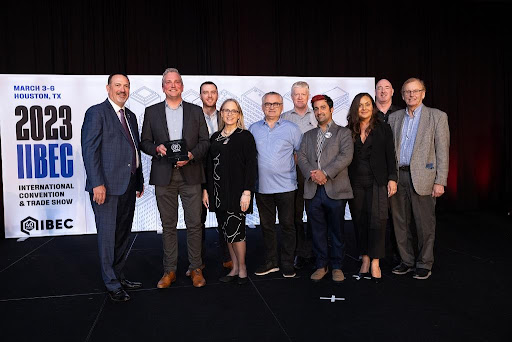 Upcoming Events:
April 18 – IIBEC SOC Luncheon Seminar: Creating Reusable Insulation Systems for Roofing & Waterproofing Applications 

April 26/27 IIBEC QOC Course: Building Enclosure Quality Assurance 

June 28 – IIBEC SOC Golf Tournament