IIBEC Southern Ontario hosted our fourth continuing education webinar at 11 am on Wednesday November 18th on the topic of Skylights and the Building Envelope.
The webinar was very well attended by 37 people. The webinar highlighted how skylights can provide various benefits to the building envelope such as energy savings, while demonstrating how natural daylighting can enhance productivity, health, and well-being with other potential benefits to building occupants. Additional topics covered included product testing and compliance, high impact fall protection testing, guidelines for sloped glazing installation methods and best practices. The webinar was presented by Steve Kadivnik, LEED Green Associate, and Nenzio Ferrazzo, B.Arch.Sci., both from Artistic Skylight.
Special thank you to the education committee for putting this event together.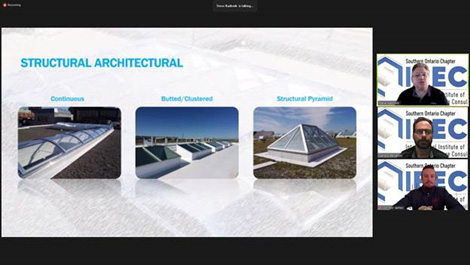 Upcoming Events:
The IIBEC Southern Ontario Chapter's Annual General Meeting will be held virtually on January 28, 2021 from 9:00 am to 10:30 am.